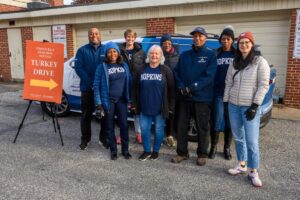 The Community Engagement team elevates and expands Johns Hopkins' commitment to Baltimore City, by fostering engagement to support marginalized and underserved residents. Engagement from university staff, faculty, and students volunteers is vital in helping to achieve this mission. Interested in connecting with and giving back to the world beyond JHU's offices and campuses?
Whether you want to help fund school uniforms for city school students, bring holiday cheer to a family in need, spend a day performing community service, or volunteer in another way, JHU's many service, charitable, and community programs are a great place to start.
Email communityprograms@jhu.edu for questions or for more information.