MLK Day of Service
Martin Luther King Jr. Day of Service and Community Health Fair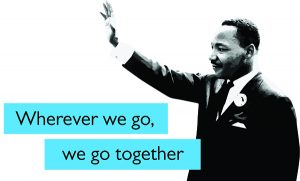 The 3rd Annual Johns Hopkins Day of Service
Friday, Jan. 24, 2020
Volunteer opportunities and clothing drives to be held at various locations across Johns Hopkins University and Johns Hopkins Medicine. Visit the sign-up page to see volunteer opportunities near you. Each volunteer slot requires a time commitment of approximately four hours on Friday, January 24th.
Inaugural Community Health Fair
Saturday, Jan. 25, 2020
10 a.m. to 5 p.m.
Furman L. Templeton Preparatory Academy: 1200 Pennsylvania Ave., Baltimore, MD 21217
Services offered will include health screenings, workforce development, housing and more. Sign-up here to volunteer at this event!
CLOTHING DRIVES
Another way to participate in the day of service is by donating new or lightly used men's, women's, and children's clothing at one of several collection sites on Johns Hopkins campuses. You can also volunteer to receive and sort clothes at these collection sites. Clothing will be accepted only during specified times on Friday, Jan. 24—it will be distributed the next day at the health fair. Learn more about the clothing drives and items the will be accepted.
**Please note that volunteer opportunities are available throughout the year, and University employees may use service leave for approved activities. Get details on our main Community Engagement page.