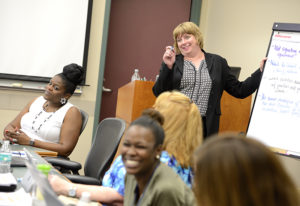 As part of our commitment to ongoing professional development for all our employees, JHU offers the Supervisor Development Program (SDP) and Manager Development Program (MDP), which are designed for new and existing supervisors and managers, and anyone interested in acquiring new skills with future career growth in mind.
Each curriculum is structured with core courses and elective options to allow you to better customize your experience, and all courses align with university leadership competencies. In total you'll take seven classes—four core classes and three electives. Courses are offered year-round and do not need to be taken in any particular order.
Not sure whether JHU considers you a supervisor or manager? Our SMDP Decider Tool can help guide you. Or, reach out to us at jhuldp@jhu.edu and we'll be happy to discuss the possibilities.